Because you are not here to see our faces...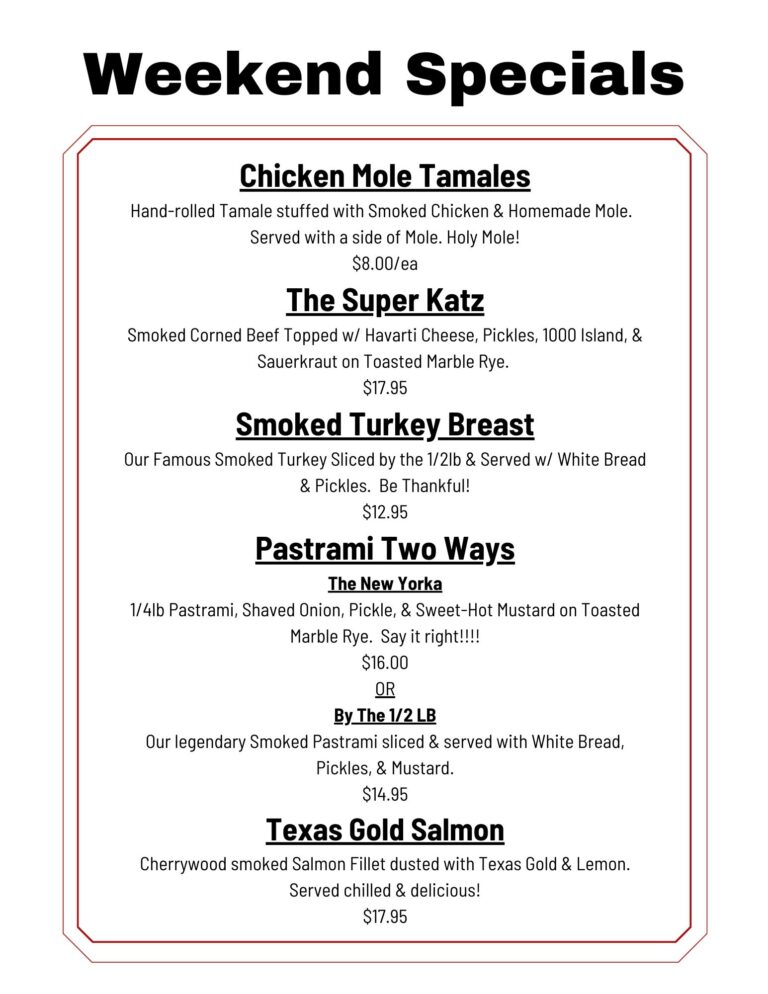 All of our meats are sourced from the highest quality purveyors & delivered fresh to us throughout the week. Our meats are smoked daily for service to ensure the freshest & best BBQ we can share with you!
We keep it simple. Our Brisket & Pulled Pork come by half-pound, our St. Louis Spare Ribs come by the half or full rack, our golden brown Miller Family Amish Chickens by the half & our Mikeska Sausage is sold link by link. Most meat orders come with white bread and pickles – the Texas way.
Because every rock star needs a solid backup, we have crafted amazing specials & sides to accompany our smoked meats. BBQ isn't BBQ without beans! Our beans are bacon-loved & smoked under our briskets to catch all the drippings from that fabulous beef! Mac & Cheese, a childhood favorite finds new life with our spicy topping! And don't forget to eat your vegetables: Mexican Street Corn that is! Are you a fry connoisseur? Try our fries with Black Truffle Sea Salt and Gochujang ketchup! Want to keep it simple? Feel free to indulge in Betty F'n Rocker's Giant Golden Cornbread Muffin! Have one, have two, or have them all and share with a friend!
Looking for more? We are constantly pushing the envelope of what a "BBQ Joint" can produce. Everything from Giant Beef Short Ribs to "Kor-birria Ramen" we have no boundaries. We craft new & interesting specials on a daily basis to keep you coming back for more! Our goal is to provide the most unique & memorable dining experience from the moment you walk through our doors to the moment you say to yourself, "Damn, did I eat all that???" Join our Heads Up List to stay up-to-date with all of our fun specials & events!
Need to feed a group? We can do that. We have delicious BBQ for groups of all sizes! Smoked Meats, Savory Sides, & even Custom Cakes & Pies, there's something for every occasion. Check out our award-winning catering options here.
Want a more interactive experience? We also have a Food Truck & Rockin' Rodizio Churrascos available for parties, corporate events, & so much more! Minimums & additional service fees may apply. Send any orders or questions to info@chicagoculinarykitchen.com. Most orders require minimum 72hr notice. Specialty and/or Market Price items may require more notice. Catering orders are for pick-up only at this time. We look forward to rocking your event.